Nature's Desert Bloom
Springtime is a great time to visit Hoover Dam. The days are longer, the temperatures are usually delightful, and the wildflowers come alive in the Lake Mead National Recreation Area and beyond in the Desert Southwest.
If you love nature and photography, the spring blooms in the desert are not to be missed. The hillsides, canyons, and valleys come alive with color.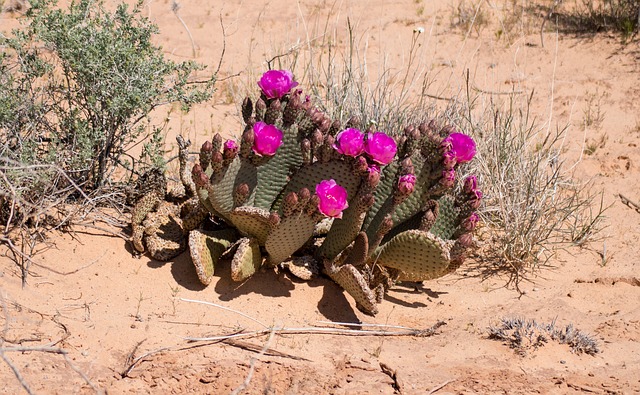 Prickly Pear Cactus in Bloom
While the timing of wildflowers is unpredictable, late March is a particularly great time to visit. The blooms and amount of wildflowers are dependent on rainfall.
Rainfall and temperatures have to be properly aligned to avoid drought stress and allow for more plentiful germination.
Having more winter precipitation or early spring rainfall makes the wildflower blooms more abundant and last longer.
Where to View Wildflowers
If you're driving west from Hoover Dam, you can head up Boulder City Parkway and then turn onto Lakeshore Road which takes you into the Lake Mead National Recreation Area.
There is a fee to enter the area. From Lakeshore Road, you can connect to the north to Northshore Road.
From Northshore Road (Highway 167), you can either continue on to desert valleys and hillsides with abundant wildflowers such as in Pinto Valley or more remote areas to the east.
You can also access the recreation area from Henderson via the East Lake Mead Parkway. The visitor entrance/fee station is just east of Lake Las Vegas.
This is a lower elevation area of about 1,600 feet, which has Las Vegas bearpoppies, primrose, and tall Silverleaf sunray.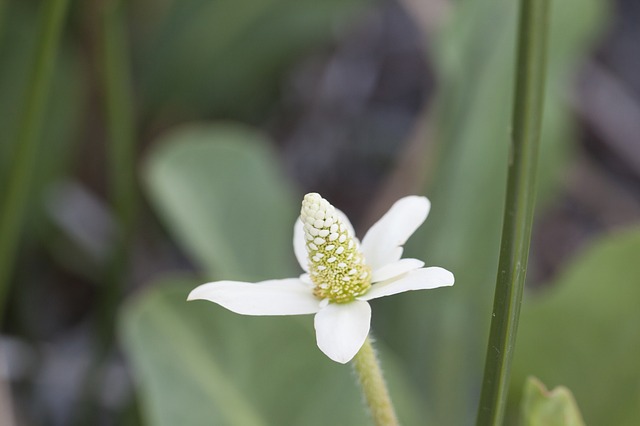 Spring Wildflower Blooms
Even the ubiquitous creosote bush can come alive this time of year with yellow blooms. The Rainbow Garden Trail area is a nice area to view these plants, shrubs, and wildflowers.
The Lake Mead National Recreation Area has a variety of elevations and terrain. You can also head to other natural areas in the region for different types of blooms.
While some wildflowers can be viewed by the roads, getting out onto the hiking trails allows you to see a wider variety and enjoy a more colorful display.
These buds and blooms are also a great opportunity to view desert wildlife.
Other Spring Bloom Areas
Some other nice wildflower areas to visit within an hour of Hoover Dam on the Nevada side include Red Rock National Conservation Area, Sloan Canyon National Conservation Area, and Wee Thump Joshua Tree Wilderness west of Searchlight.
Valley of Fire State Park is another fantastic nature area that is 60 miles north of Hoover Dam.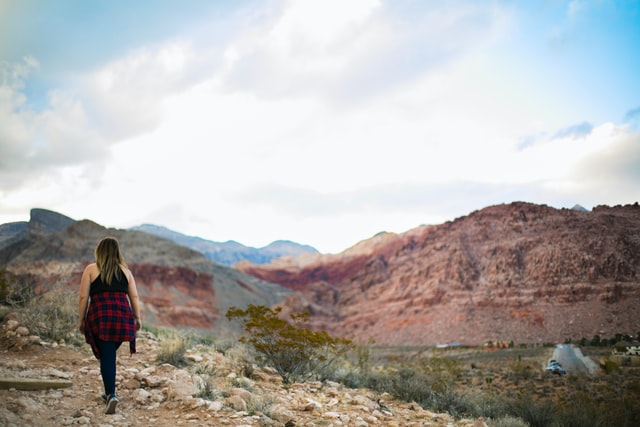 Hiking in Red Rock
Higher Elevation Blooms
At higher elevation areas above 4,000 feet, you can enjoy blooms of Joshua trees and yuccas.
In Red Rock, where there is typically more precipitation, you can enjoy Amsonia, wild rhubarb, and penstemon. Red Rock is a half hour's drive west of downtown Las Vegas.
The mountains atop Red Rock National Conservation area are higher, reaching over 8,000 feet.
On Red Rock's Oak Creek trail, you can enjoy rattlesnake weed, paintbrush, indigo bush, milkvetch, globemallow, desert marigold, and Apache plume.
In May, you can enjoy flowering buchkhorn cholla cactus, beavertail catcus, hedgehog cactus, and Mojave prickly pear cactus. By June, conditions are typically too hot and dry for wildflowers.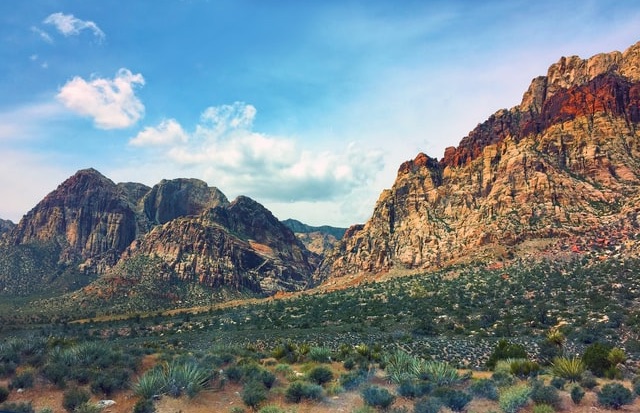 Red Rock National Conservation Area
Nature and Sports
In addition to the fantastic nature, visiting the Hoover Dam in March or early April is also a great time if you love sports.
You can enjoy the excitement of the March Madness college basketball tournament in Las Vegas or watch the Masters golf tournament.
If you're a baseball fan, you can enjoy watching and wagering the opening of the Major League Baseball season. Or you can watch a minor league baseball game live in Las Vegas.
The city's AAA baseball team, the Aviators, typically starts play in early April.
You can learn more about Hoover Dam area hotel options here and plan your spring visit to Hoover Dam!