A NATIONAL RECREATION AREA
Lake Mead was formed by the impounding of the Colorado River by the Hoover Dam. The lake is the largest reservoir in the United States. It extends for 110 miles behind the dam, forming the border part of the way between the states of Nevada and Arizona.
The south end of the lake is located about 30 miles east of Las Vegas. It covers a vast and is about 247 square miles in size.
A RECREATION CENTER
The lake offers year round recreation activities for nearby residents and visitors from all over. Activities include boating, swimming, fishing, water skiing, kayaking, and sun bathing.
The lake has about 550 miles of shoreline with many coves with sandy beaches and rocky cliffs to explore. Houseboat rentals are popular in the summertime on the lake. High temperatures on the lake in the summer are routinely in excess of 100 degrees.
HOW IT WAS FORMED
Lake Mead is named after Elwood Mead, who was the commissioner of the U.S. Bureau of Reclamation during the planning and construction fo the Hoover Dam project.
After the completion of the Hoover Dam in 1936, the dam caused the water level to rise, forming Lake Mead. The area was originally called the Boulder Dam Recreation Area, until it was renamed Lake Mead National Recreation Area in 1964.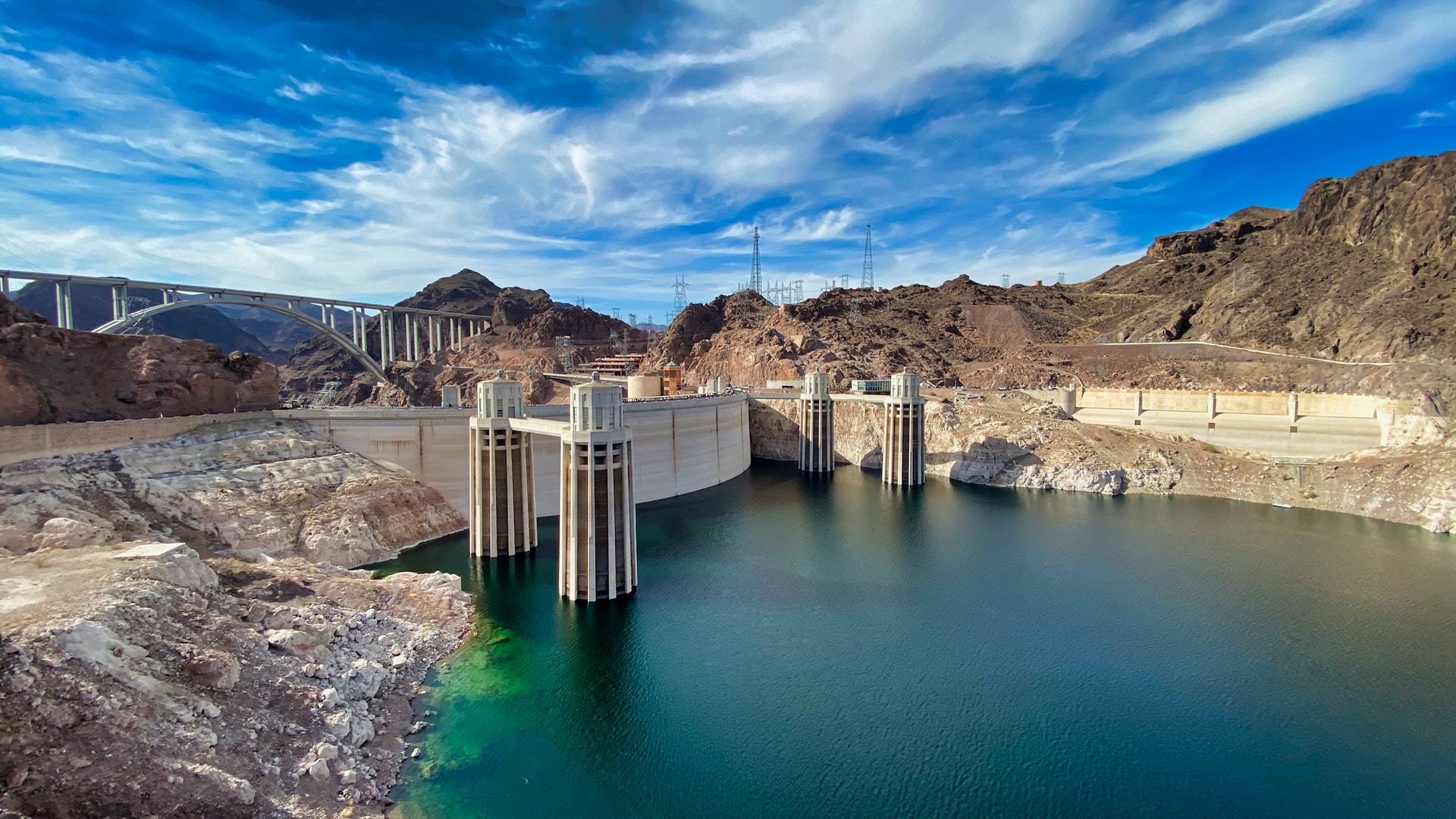 There are no cities on Lake Mead's edge, but more than two million people that live within 40 miles of the lake. When the Hoover Dam was built, the city of St. Peters was submerged by Lake Mead as the dam caused the Colorado River's water level upriver from the dam to rise.
The U.S. federal government purchased the town. The ruins of St. Thomas are now protected by the National Park Service as a historic site. The ruins are sometimes visible when the water level on Lake Mead is low.
TOWNS BY THE LAKE
The cities nearest Lake Mead are Boulder City, Nevada on the south end near the Hoover Dam and Moapa Town, Nevada near the north end.
Boulder City is a larger city of about 15,000 residents, eight miles west of the Hoover Dam. It offers hotels, restaurants, shopping, golf, and hiking trails for visitors.
Lake Mead's water level has dropped significantly in the past decade. This is evident to visitors as prior water levels can be observed on the rocks around the lake. Continued low levels at the lake could cause significant water shortages in the Las Vegas area.
Already, several marinas and boat ramps have had to have been relocated or closed as a result of the low water levels.
The demands for water have never been greater as the Las Vegas areas population has grown by more than 25% in the past decade.
This combined with less snowmelt and precipitation upriver cause serious concerns over the area's available water supply.