Update: As of March 2022, Powerplant and Dam Tours are open with a limited capacity.
EXPERIENCE THE DAM BY BOAT
Hoover Dam airplane tours are a great way to explore the Lake Mead area and typically will continue onto the Grand Canyon West.
There are a couple different ways to do the small airplane tours, and they may depart from either Las Vegas or Boulder City.
There are air-only sightseeing tours. These tours including flying over Lake Mead, Hoover Dam, the Hoover Dam Bypass Bridge, the Black Canyon of the Colorado River, and continuing east to the Grand Canyon West.
These unforgettable views are a different perspective of this magnificent natural tapestry.
Flying into Arizona
In Arizona as you fly east, you'll travel over winding ravines and stunning red rock canyons, nearly a mile deep. An aerial view of the Grand Canyon, one of the "Seven Wonders of the Natural World" is like no other.
Air only tours typically aren't more than four hours in total length, and tend to be lower in cost compared to the combined tour.
Travelers can also opt for an air and bus tour. You still get the incredible sightseeing flight to the Grand Canyon, and panoramic, scenic views of Lake Mead and the Hoover Dam Area.
Airplanes may be specially designed with high wings to take in prime views for "flightseeing". But it also adds a bus ride to tour the Hoover Dam on the ground.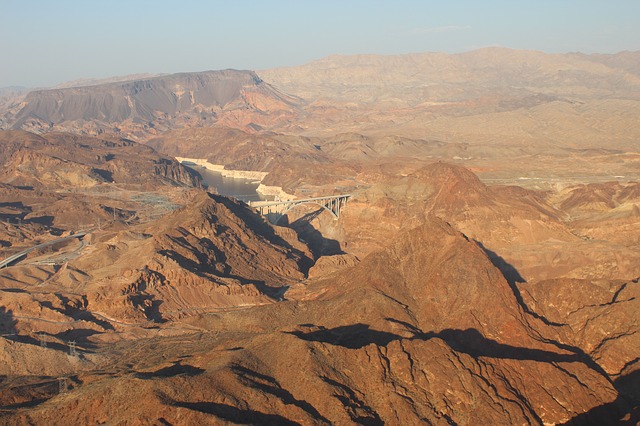 Get the Full Hoover Dam Experience
The air and bus tour is longer, but it provides transport from the airport terminal to the dam. This allows travelers time for souvenir shopping, a meal, and guided Hoover Dam tour.
On the tour, visitors can learn about the dam's creating, view it's beautiful architecture, and discover it's inner-workings.
And you also get time to explore the visitor center and exhibits with ample opportunities photos, explore, and find breathtaking views.
The air-only tours typically start at the designated airport terminal, while the combined tours pick up travelers at the Las Vegas hotel.
Whichever you choose, either should leave you with indelible memories to last a lifetime!