Bypassing the Dam
The Hoover Dam bypass bridge opened the night of October 19, 2010. The official date and time of the opening were not announced in advance as officials did not want back–ups for people waiting to cross the bridge.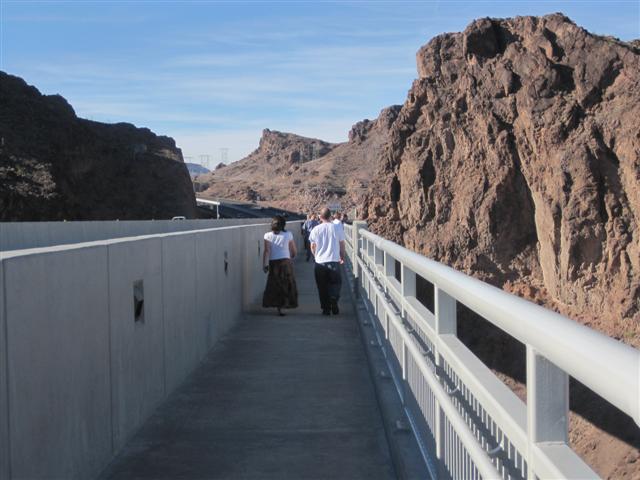 The bridge, which cost $240 million to build, took nearly eight years to complete. The bridge spans 1,900 feet crossing the Colorado River in the Black Canyon, just south of the Hoover Dam.
The bridge cuts at least a half hour of driving time off the popular route between Las Vegas and Phoenix.
The bridge also marks the starting point of the new Interstate 11, which currently runs for just 22 miles from the bridge to Henderson and bypasses Boulder City.
To the east of the bridge is Highway 93. There are plans to convert Highway 93 into I-11, which would allow for freeway access between Las Vegas and Phoenix and beyond.

View Hoover Dam in a larger map
The Original Hoover Dam Bridge
The roadway over the Hoover Dam originally opened in 1936, when the dam opened.
The roadway had two lanes, curvy, and had pedestrian crosswalks, which were often filled with tourists taking in views of the dam, Lake Mead, and the surrounding mountains.
The roadway was also subject to security checkpoints, which could cause back–ups that were miles long.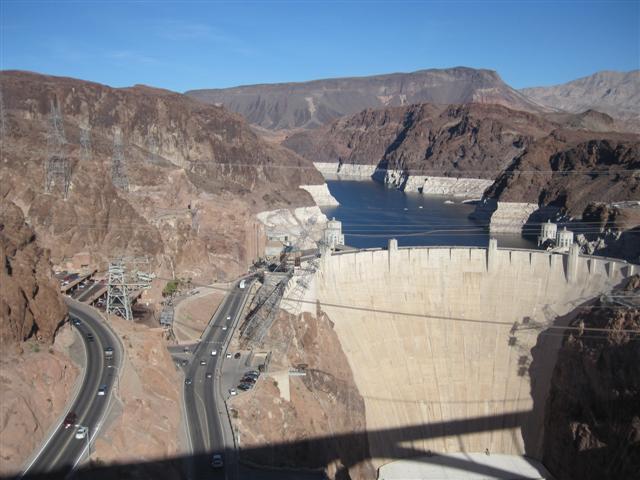 After 9/11, Federal officials also heavily restricted the types of vehicles and cargo that could cross the dam.
Semis and other large vehicles were not permitted over Hoover Dam, adding an additional 23 miles of travel through Laughlin to reach Las Vegas or Phoenix.
An Engineering Feat
With the Mike O'Callaghan–Pat Tillman Memorial Bridge open, the original bridge across the Hoover Dam is closed to vehicular traffic.
Visitors to Hoover Dam and the visitor center will still be able use the roadway to reach the dam from either Nevada or Arizona and park nearby but only pedestrian will be able to cross the bridge.
According to the U.S. Department of Transportation, the Mike O'Callaghan–Pat Tillman Memorial Bridge is the longest bridge built with concrete arches in the Western Hemisphere.
The bridge is 890 feet above the Colorado River, making it the second tallest bridge in the United States.
The impressive size and architectural style of the bridge adds an additional feature to the view from the Hoover Dam, which was itself an engineering marvel of its time.
The bridge also makes a Hoover Dam helicopter, airplane, or boat tour that much more impressive.