Bypass Bridge For
Hoover Dam
The September 11, 2001 terrorist attacks in the United States expedited the need for greater security and capacity to cross the Hoover Dam. If the dam were to be breached, the results would be catastrophic.
It could result in major flooding, loss of life, and billions of dollars in losses while jeopardizing the current water and power supply for millions of people in the American southwest.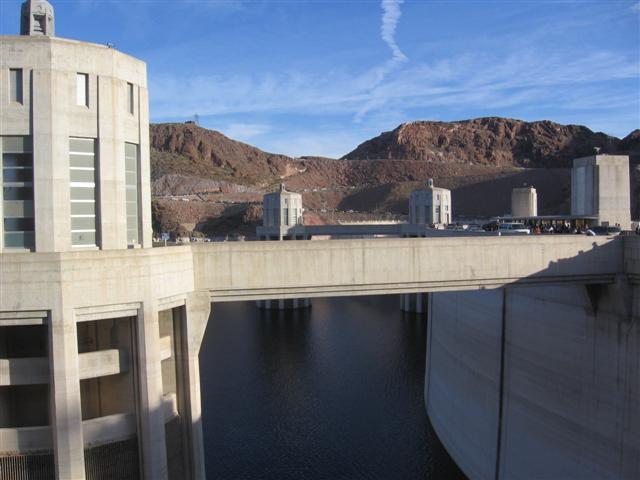 Growth of the Southwest
The road that crosses the Hoover Dam was U.S. Route 93, which is the major highway route between Phoenix and Las Vegas.
The roadway across the dam was not adequate to meet traffic needs. It was a two–lane highway with many dangerous curves and poor sight distances.
Because the dam draws millions of visitors for sightseeing including pedestrian traffic, vehicle traffic was often very slow through the dam area.
Further, after September 11, commercial truck traffic via U.S. Route 93 through the Hoover Dam has been diverted south to a bridge crossing in Laughlin, Nevada.
This added nearly thirty miles and significant travel time to the drive between Phoenix and Las Vegas.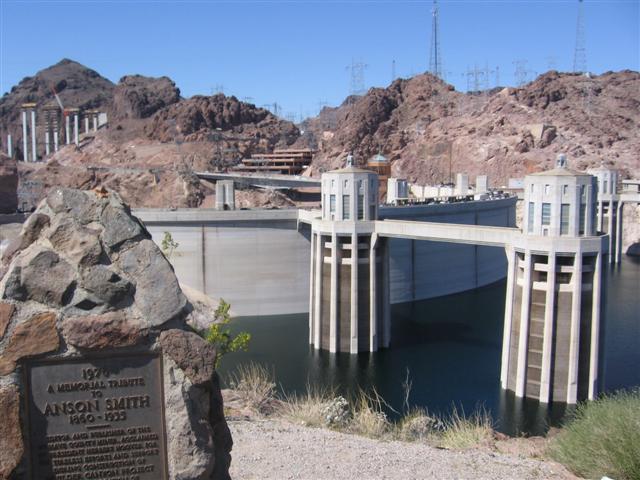 Worthy of a Visit on its Own
The Mike O'Callaghan – Pat Tillman Memorial Bridge, also known as the Hoover Dam Bypass, is the new U.S. Route 93 path near the Hoover Dam.
The bridge site was carefully studied and planned. It is a concrete–steel composite arch bridge, the first of its kind in the United States.
It is 1,900 feet in length and is 890 feet above the Colorado River, south of the Hoover Dam.
The bridge is four lanes wide and is a component of the proposed Interstate 11 project, which would connect Las Vegas and Phoenix by interstate.
The bridge is named in honor of Korean War veteran and former Nevada governor Mike O'Callaghan, and Pat Tillman, an Afghanistan War veteran and National Football League player. Both men died in 2004; Tillman was killed in a friendly fire accident in Afghanistan.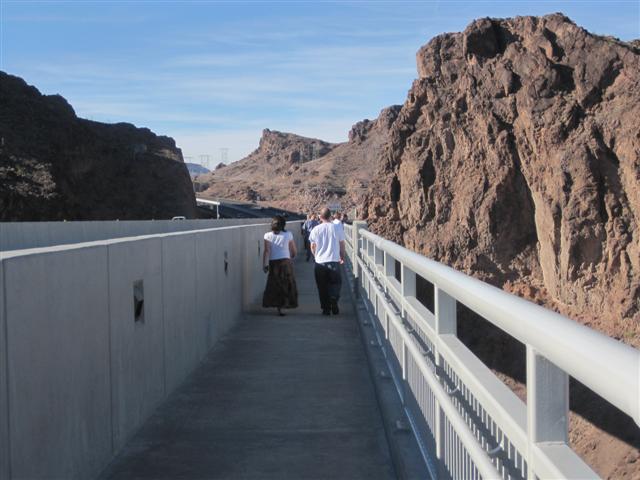 The Future of Hoover Dam Traffic
Construction on the Mike O'Callaghan – Pat Tillman Memorial Bridge is completed and is open for vehicular traffic. The cost of the bridge and bypass project was nearly a quarter of a billion dollars.
Now that the bridge and bypass are open, the road crossing the Hoover Dam is closed to through traffic.
It is anticipated that more than an average of 17,000 cars and trucks will travel across the new bridge daily. However, the dam will not be visible to most vehicular traffic.
There is a pedestrian walkway on the north side of the bridge, affording excellent views of the Hoover Dam.
For more information, click on our Hoover Dam Bypass open page.